With pleasure we teamed up with Dreamcast.es and can offer free floppy disks with Sqrxz and Sqrxz 2 at RetroMadrid (limited supply, so be fast!). RetroMadrid is hold this weekend and will be the first chance for Spanish Amiga-Fans to get a physical version – the game is free, certainly we will not mind if you donate a bit so we can cover our production costs. The game is available at the Dreamcast.es-Booth.
This might sound odd, but Indiket, who is part of Dreamcast.es as well, ported all Sqrxz parts to Dreamcast, so this seemed the best solution having a real team member giving away Sqrxz.
Update:
Get the game at the Commodore 4 Ever booth now!
Update 2: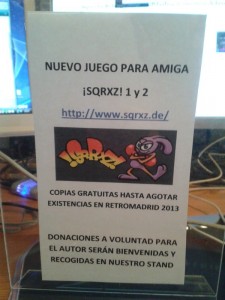 Thanks to Jesus / Commodore4ever for the picture and the distribution @ RetroMadrid 2013